Moissanites do need care to keep them at their brilliant best. A clean Moissanite will reflect light better and allow its fire and brilliance to show. That added brilliancy makes the Moissanite look larger than one that has been "dulled" by oil from the skin, soaps, cosmetics and everyday activites.

One of the advantages of Moissanite over diamonds or any diamond alternative available is that it does not have the same affinity towards grease and oil. That being said it is still a good idea to clean your jewelry about once a month to keep them sparkling as brilliantly as possible.

Here are four simple ways to keep your Moissanite gemstones looking their best: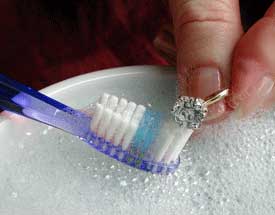 Prepare a small bowl of warm soapy water. Use any mild liquid detergent that does not contain "soap" for it creates another type of "film" on the surface of the Moissanite. We do not recommend the use of any abraisive cleaners for any type of jewelry. Brush pieces gently with a tooth brush and rinse well. A hair dryer may be used to finish drying the jewelry.


The Cold Water
Another home cleaning process you can do is to make a cup of a solution containing water and household ammonia or similar product like Mr. Clean. We recommend about 3/4 parts of water and 1/4 part of the cleaning chemical. Let the Moissanite jewelry soak for about 10 minutes and with a tooth brush gently tap around the back and front of the mounting and if you can, try to reach behind the mounting where dirt would have accumulated. Rinse it well with warm to hot water and dry it with the help of your blow dryer. (We don't recommend the use of towels for drying your jewelry).


Commercial Home Jewelry Cleaners
You can purchase one of many formulated, non-toxic liquid jewelry cleaners such as GemCare. These cleaners are ideal for effectively removing the "film" that can accumulate on a gemstone surface.


Ultrasonic Cleaner
This is the most effective option for maintaining the brilliance of your Moissanites. It is the method our jewelers use prior to shipping customers' orders. It creates a high-frequency turbulence which can clean most of your jewelry.


Additional Recommendations
You may try to avoid using your fine jewelry while playing sports (working out in a gym is included here) or when you do any kind of rough work. Even though a Moissanite is the most durable natural crystal structure known to man, it can be chipped by a hard blow along its grain.

When you are not wearing your Moissanite jewelry, try to separate them individually. Moissanite pieces in a drawer or left in contact with other jewelry in a jewelry case can scratch each other and also can scratch other jewelry.