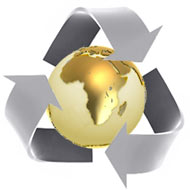 Recycled Gold and Palladium Jewelry
Dirty gold mining has a history of civil war, labor abuses, and environmental devastation. Metal mining, and gold mining in particular, is one of the most environmentally destructive types of mining and millions of gold miners earn low wages in dangerous working conditions.

Our objective is to help diminish the negative impacts of dirty gold by reducing the demand for newly mined metals.

About Our Recycled Precious Metals
The jewelry we cast is made with recycled and re-refined precious metals. Because our reclaimed gold, platinum, and palladium are refined back into their pure elements, they are of the same high quality as newly mined metals.

The reclaimed precious metals come from numerous post-consumer sources, including existing jewelry, industrial-use metals, and electronics components.